SAA 2022 Public Archaeology Day
Join SAA for a celebration of archaeology! Public Archaeology Day will be held on Saturday, April 2, 2022 during the SAA 87th Annual Meeting in Chicago. All members of the public are invited to explore archaeology and history through a self-guided walking tour in Chicago (10 AM-2 PM), online videos, and downloadable activities. We welcome you to participate that day or beyond, in Chicago or elsewhere.
All activities are free and do not require an annual meeting registration. For questions, please contact public_edu@saa.org. SAA's Public Archaeology Day is made possible through donations to the Public Education Endowment Fund.
Help spread the word with the graphics below or a PDF flyer [179 KB].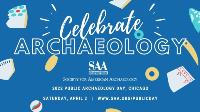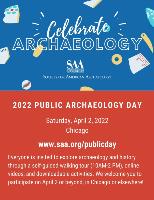 Digital Activity Booklet
Download the 2022 Discover Archaeology Activity Booklet [PDF 9.7 MB]. You'll find activities including comics, coloring, and 3D models of artifacts. Some activities can be done digitally, while others may need to be printed. If you complete any of the activities in the booklet, you can send it to the Society for American Archaeology for a small prize, an embroidered patch (pictured below). You can either email the document to public_edu@saa.org (saved, scanned, or photo) or physically mail it to our office.
There is no deadline for sending in an activity. You can continue to send them in and receive a patch as long as supplies last.
Find last year's booklet here [PDF 6.5 MB].
Embroidered Patch
This year's embroidered patch commemorates the SAA 87th Annual Meeting in Chicago and honors the Nishnabek peoples, including the Ojibwe, Odawa, and Potawatomi nations, upon whose traditional homelands we gather. The design is a creative collaboration between Ojibwe artist Andrea Carlson and illustrator and SAA member Kristin Donner. Based in Chicago, Carlson works on projects that highlight Native presence and belonging. Donner specializes in design for children's media and seeks projects that embrace intersectionality. The patch incorporates Carlson's floral pattern with Donner's palette and is inspired by the ribbon applique of many Native nations. Art is a way to raise awareness of the enduring Native presence and a means to resist erasure. If you're in Chicago, you can learn more by exploring Carlson's artwork along the Chicago Riverwalk.
You can receive a free patch by completing an activity in the digital activity booklet above or participating in the self-guided tour below on April 2.
Self-Guided Tour
If you're in Chicago, you can pick up a guidebook either outside the Art Institute or at the Field Museum of Natural History on Saturday, April 2, 2022, 10 AM-2 PM. This short self-guided walking tour (a little over one mile or a 25-minute walk) goes through Grant Park, between the two museums. Stops in the guidebook will have small bits of information connected to archaeology, history, heritage, and material culture. There will also be links to videos for more information, which you can watch along the way, if you're able.
At the Art Institute (Google Maps): Go outside of the modern wing entrance, located at 159 East Monroe Street. The guidebook with direct you to the east entrance, but it is currently closed. If this is your first stop, you'll collect your guidebook, first sticker, and read about Stop 1. If this is your last stop, you'll collect your second sticker.
At the Field Museum (Google Maps): Go inside the museum at the East Entrance, located on the side closest to the lake and farthest from DuSable Drive (formerly Lake Shore Drive). It is just off Solidarity Drive. If this is your first stop, you'll collect your guidebook, first sticker, and read about Stop 5. If this is your last stop, you'll collect your second sticker.
When you've finished your tour and collected both stickers, you'll receive a small prize, an embroidered patch (pictured above).

If you aren't in Chicago, or you're unable to join us, you can still watch the videos below or view an online map of all five tour stops.

Beginnings of Private Business from Ancient Trade
Andrea Vianello, PhD
University of South Florida

Chicago's 1893 World's Columbian Exposition and Grant Park
Rebecca S. Graff, PhD, RPA
Associate Professor of Anthropology
Lake Forest College

Africa to Chicago
Robert Hanserd, PhD
Associate Professor of History
Columbia College Chicago

Archaeobotany: Ancient Plants for the Past and the Future
Paul E. Minnis
Professor Emeritus
University of Oklahoma

Community-Based Access and Care at the Field Museum
Michelle Brownlee
Turtle Mountain Ojibwe
Collections Assistant, Anthropology
Field Museum
Additional Resources

Exploring Archaeology in Illinois: A PDF [528 KB] of resources for getting involved in archaeology in Illinois, made for the National Council for the Social Studies conference in Chicago, 2018.

Learn about Archaeology in Your State: This map by Elizabeth Reetz can help you find an archaeologist to contact near you. If you have questions about archaeology resources, activities, and events of interest to teachers and families, ask a local archaeologist!
Feedback
We would love your feedback on our 2022 Public Archaeology Day. Please share what you learned about archaeology or felt was missing by taking our survey.
Acknowledgements
A sincere thank you from SAA to the many people who helped organize and support Public Archaeology Day, including: Ryan Williams, Andrea Vianello, Robert Hanserd, Paul Minnis, Rebecca Graff, Michelle Brownlee, Bernard Means, Kristin Donner, Andrea Carlson, John N. Low, Maggie Colangelo, Audrey Birch, Savannah Gross, Ashley Vance, Maegan Smith, Carol Colaninno, Maria Nunez, Bailey Kirsten, Yaritzi Hernandez, Alexa Fulgencio, Stephanie Sperling, Karen Poulson, Salpi Bocchieriyan, Barbara Anglisz, Eleanor King, Lorien Yonker, Beth Pruitt, SAA's 2022 Local Advisory Committee, the staff at the Art Institute of Chicago and the Field Museum of Natural History, and the donors to SAA's Public Education Endowment Fund.