Please be aware when registering, all times are in the Eastern Time Zone.
Even for free events, you will need to
click the "Proceed to Checkout" button and "Submit Order" to complete your registration. If you do not receive an automated confirmation email, or if you have any questions about registration, please email
onlineseminars@saa.org
.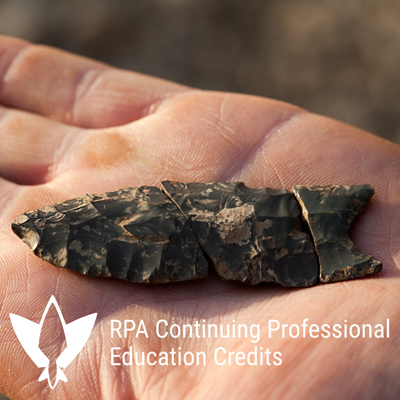 Registration Closed!
Reading Flake Scars to Understand Lithic Technologies and Past Human Behavior [Deeper Digs]
When: May 09, 2023 12:00-2:00 PM ET
Duration: 2 hours
Certification: RPA-certified
Pricing
Individual Registration: $99 for SAA members; $149 for non-members
Group Registration: $139 for SAA members; $189 for non-members
Terry Ozbun, MA, RPA

Terry Lee Ozbun, AINW Senior Archaeologist, studied lithic technology under Dr. Jeffrey
Flenniken and was awarded the Crabtree Memorial Scholarship in Lithic Technology during graduate studies at Washington State University. Terry has published articles and taught classes in lithic technological studies for over 30 years.

Meghan Johnson, MA, RPA

Meghan Johnson is a flintknapper and lithic analyst at AINW. Meghan has taught classes on lithic technological studies for seven years. Meghan's research aims to identify lithic reduction strategies employed in the Pacific Northwest through technological analysis and experimental replication. Her current research interest focuses on cobble chopper production and use.

Kelley Prince Martinez, MS, RPA

Kelley Prince Martinez is a lithic specialist in technological ground stone analyses in the
Pacific Northwest. Martinez is experienced in conducting macroscopic and microscopic ground stone analyses, combined with experimental replication and use wear studies, to understand raw material selection, ground stone tool manufacture, use, and recycling strategies.

Nick Hlatky, MA, RPA

Nicholas Hlatky has studied lithic technology in the U.S. Southwest, Micronesia, and the
U.S. Pacific Northwest. Nicholas has examined a diverse range of lithic assemblages across these regions, including Clovis, Folsom, and early Archaic period assemblages. He focuses on understanding technological organization through debitage assemblages.
This seminar will provide insight into stone tool production and lithic attribute analysis methods. It will be organized around specific flake attributes and their interpretive power for understanding the processes and techniques used by ancient (and modern) people to make and use stone tools. The course will cover key concepts in interpreting past lithic technological behavior and aims to enhance participants' skills in identification and description of diagnostic lithic artifact attributes.

Key attributes such as remnant ventral surfaces and the characteristics of platforms, compression rings, and radial striations are qualitative more than quantitative and therefore better "read" than measured. Diagnostic attributes vary by technology and their identification allows for reconstruction or modeling of reduction sequences. Reduction sequences (aka chaîne opératoire) represent patterns of learned human behavior and can be evaluated for accuracy through experimental replication. Reading ancient artifacts allows us to discover technologies from the clues left by ancient practitioners of those technologies.

This course is designed for professional archaeologists, students of archaeology, and non-professionals interested in lithic technological analysis.
1. Develop skills in recognizing technological attributes of stone tools and technologically diagnostic debitage
2. Enhance ability to differentiate between natural and human-created flakes
3. Connect attributes to specific reduction technologies and the relationships between individual artifacts and the larger technological systems of which they are a part.
---