Please be aware when registering, all times are in the Eastern Time Zone.
Even for free events, you will need to
click the "Proceed to Checkout" button and "Submit Order" to complete your registration. If you do not receive an automated confirmation email, or if you have any questions about registration, please email
onlineseminars@saa.org
.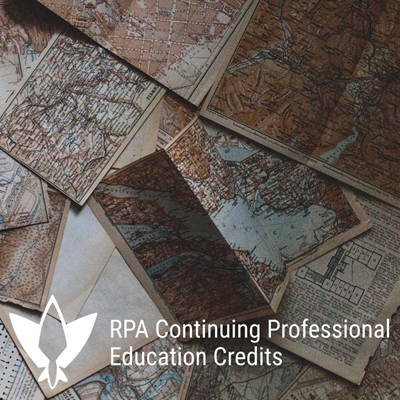 Register
More than Fill: Using GIS and Historical Documents in Urban Archaeology [Foundational Skills]
When: September 21, 2023 1:00-2:00 PM ET
Duration: 1 hour
Certification: RPA-certified
Pricing
Individual Registration: Free to SAA members; $69 for non-members
Group Registration: Free to SAA members; $89 for non-members
Geri Knight-Iske, RPA

Ms. Knight-Iske is an archaeologist and cultural resources specialist at Stell, with over 13 years of professional experience in the field of cultural resources and archaeology. She has performed Phase I-, II-, and III-level archaeological investigations/surveys as Field Director, Crew Chief and Artifact Lead and has performed field and laboratory work on multiple sites of proposed land development areas throughout Maryland, New Jersey, Virginia, Pennsylvania, Washington D.C., and West Virginia. She also has experience using ArcGIS for cultural resources, natural resources, and archaeological purposes. Ms. Knight-Iske has worked for and/or collaborated with the Armed Forces Retirement Home, Department o Homeland Security, District of Columbia Historic Preservation Office, General Service Administration, Maryland Historical Trust, West Virginia SHPO, Maryland State Highway Administration, National Park Service, Naval Support Facility at Indian Head, Nebraska State Historical Society, New Jersey State Historic Preservation Office (SHPO), Office of Historic Alexandria, Office of Historic Preservation of Arlington County, Pennsylvania Department of Transportation (PennDOT), University of Nebraska State Museum, U.S. Forest Service, U.S. Army Corps of Engineers, Washington State Department of Archaeology & Historic Preservation, multiple Tribal Historic Preservation Offices, and national, state, and local avocational and professional organizations.
Urban Archaeology, or archaeology within a highly developed city, presents a number of unique challenges compared to archaeology that happens in open, presently rural areas. Although urban archaeology adds additional requirements for safety and logistic issues, it also presents archaeologists with a large amount of useful information in the form of historical maps, photographs, census data, newspaper articles, etc. that help create a picture of who was living within a project area and when. Historic maps in particular can be used for GIS analysis to determine how much the landscape has changed over time. This can help in decisions about the appropriate survey type to determine if cultural materials are present within a project area. This presentation will focus on the Barry Farm neighborhood in Washington, D.C. as a case study.
Discuss how urban archaeology is conducted
Bring to light underutilized GIS analyses for use in CRM archaeology
Describe how different kinds of historical documents can help build a better site history
---