Latin American Antiquity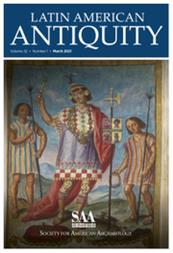 Latin American Antiquity is a quarterly journal that publishes original papers on the archaeology, ethnohistory, and art history of Latin America and the Caribbean and all regions in the continental New World that are south of the current U.S.-Mexico border. The journal publishes ARTICLES, REPORTS, and COMMENTS in method and theory, field research, and analysis that use a Latin American database as defined above.
Login Required
To view tables of contents and free issues only, visit
Cambridge Core
; to access all other issues, log on to the "
For Members
" tab and then "Access Your Online Journals" to navigate to the desired issue.
Permission requests related to the SAA's journals are now handled by Cambridge University Press, our publishing partner. Please follow the instructions below to request permission to reprint material from Advances in Archaeological Practice, American Antiquity, Latin American Antiquity, or Memoirs of the Society for American Archaeology.
First, you must find the article from which you are requesting permission to reproduce material on the Cambridge Core site. If you are not a current SAA member, you can view tables of contents and abstracts by visiting Cambridge Core. Current SAA members can access full content by logging on to the "For Members" tab and then click on "Access Your Online Journal(s)" to navigate to the desired journal/issue.
Once you have accessed the article in question on Cambridge Core, click on the "Rights & Permissions" button that appears above the abstract. From there you will be directed to the RightsLink platform hosted by the Copyright Clearance Center.
For additional assistance, please contact
permissions@cambridge.org
New in June 2017 and updated in June 2021, the Society for American Archaeology has released a fully revised and updated publication policy and style guide in English and Spanish. The new guide provides updated submission requirements and policies, as well as procedures as they relate to our new publishing partner, Cambridge University Press. In the new guide you will also find more robust guidance for citing various electronic sources (websites, blogs, etc.), updated protocols for certain formatting issues (e.g., use of % in text, removal of periods in BP/BC/AD, use of leading zeros), the requirement to document data availability, and more. The submission and style requirements are effective immediately, so please be sure to carefully review the new guide before you submit a manuscript.
Download the PDFs here:
Editorial Policy, Information for Authors, and Style Guide for American Antiquity, Latin American Antiquity, and Advances in Archaeological Practice
or
Normas Editoriales, Información para los Autores y Guía Estilística para American Antiquity, Latin American Antiquity y Advances in Archaeological Practice
(If you do not have Acrobat, you can download it for free from the Adobe site.)